The VCB
The Lee County Visitor & Convention Bureau recognized that visitors to our area would have a better travel experience if they were greeted by knowledgeable, friendly people with a welcoming smile as they disembarked from their flight.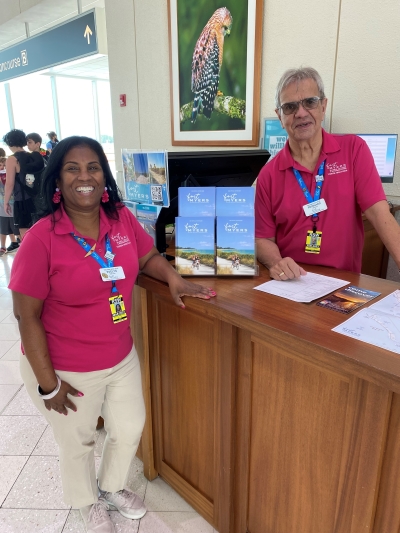 The volunteers, known as Tourism Ambassadors, have been welcoming and assisting travelers at the Southwest Florida International Airport since 1989. The ambassadors answer approximately 275,000 questions annually. Inquiries at the information booths include questions about the Fort Myers' Islands, Beaches and Neighborhoods, Charlotte County, Collier County as well as the airport. Five Visitor Information Booths, staffed by volunteer Tourism Ambassadors, are located at the Southwest Florida International Airport on the departure levels and baggage claim areas. One is in the International Arrivals area, where our German-speaking ambassadors assist German visitors when they disembark from the EuroWings Discover flights.
Fort Myers' Islands, Beaches and Neighborhoods also welcome many other international guests. If you speak German, French, Spanish or another language, please consider volunteering with us. It is customary for ambassadors to work a four-hour shift, three to four times per month. Shift time-frames are 10 am - 2 pm, 2 pm - 6 pm, or the three-hour evening shift 6 pm - 9 pm. The 6 pm shift is active January through April at the Southwest Florida International Airport.
Volunteer assistance requires extensive mobility throughout the airport as well as basic computer knowledge, for our booths are all equipped with PCs which aid us in serving the public better. Other opportunities exist for volunteering. Some examples are: office assistants, representing the VCB at consumer trade shows or events in the Lee County area. Not all of the VCB Tourism Ambassadors participate in every opportunity. Communication with the Visitor Services staff will help determine where your interests lie.
Training for Tourism Ambassadors begins in late spring and extends through the fall season. When your application is received we will put it into a holding file until an opening occurs. At that time we will contact you to schedule a visit with Visitor Services staff to discuss volunteer opportunities.
Lee County VCB, Visitor Services
11000 Terminal Access Rd, Ste 8640
Fort Myers, FL 33913
Phone: 239-590-4855
visitorservices@leegov.com